TROPHY CANADA WHITETAIL HUNTS in the Land of the GIANTS

Farm Land Hunts:   View Rates | Booking Info | Combo Moose/Deer | Top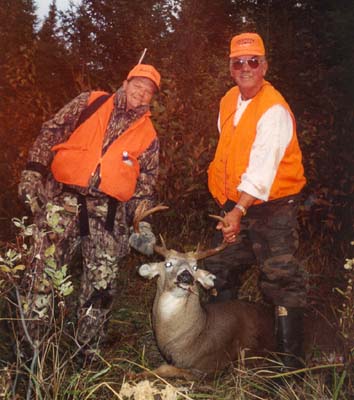 Lecuyer's has put together a lease on over 8,900 acre's of wood's and farmland, 45 miles south west of the lodge. 4 farms encompassing 32 separate pieces of Prime hunting property. We have exclusive hunting rights for several years on all the properties. Together with each land owner we are managing both the type of hunt and number of hunters. Unlike the Island/ bush hunts, here we are stand hunting only. We have built some of the finest tower stands anywhere. Being 18' off the ground, with a building 6' by 4' by 6' high. Shooting lanes out all 4 sides, padded swivel seat and urinal, they are very comfortable. Along with the tower blinds we also use the new giant bail blinds and ladder stands. All are over Alfalfa fields on the timbers edge and river bottoms. This small pocket of Ontario grows some of the richest Alfalfa in the world! The deer love it. There are plenty of river bottoms and watering holes scattered throughout the land. Here, we do two, 7 day hunts, taking only up to a maximum of 24 hunters in one season. For those who do not like to walk, this is the hunt for you. You will see plenty of deer each day. Our guides will transport you and you party to your blinds each day.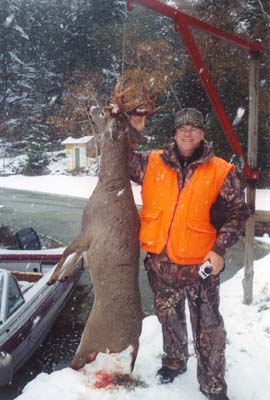 Here we provide one pro guide for each two hunters. Your guide will be spotting off a different stand for you, in case you may not see something you like. Managing the hunt was the only way in which these farms would allow this land to be hunted for the first time. Should you book with a party of 8 or more hunters in your group, we will not take any other hunters on the farms the same time. Ontario host the largest white tail deer herd in Canada. (2004 stats) This hunting zone host one of the highest deer densities in the entire province. This is the same deer herd as in northern Minnesota. The state of Minnesota has the highest number of record book bucks, in the top 50 ever taken. Some of our land is actually just on the other side of the river that separates Canada from Minnesota. The difference being, you will not have a million hunters walking through the woods with you. This is a great opportunity to harvest a Canadian trophy of your own. Our package is all inclusive with no ad on trophy fee's. We look forward to having you join us on this trophy Canadian white tail hunt.
Islands & Big Bush Deer     View Rates |  Booking Info | Combo Moose/Deer | Top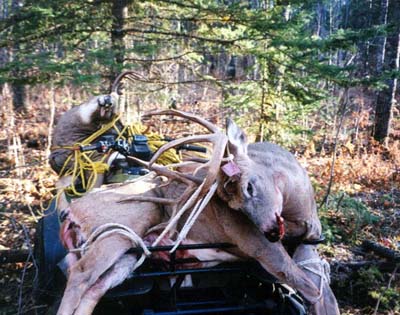 Long before the great turnaround in the deer herds south of the Canadian border, this was the area known as the place to go if you were going to bag a big deer with heavy racks. And you know what? It still is! But if you're looking for a fenced-in hunt like you'd get elsewhere, forget it. This is still and will always be the untamed north country. There are no sections quartered off, no roads every ¼ mile. Just a lot of great forested hunting land. 

We are hunting on over 50 square miles of government land. Hunts are done on they many islands and peninsulas that are on our lake as well as the vast logging areas around us. To grasp the tremendous mass of area we are hunting, you should first know this. The lake has over one million surface acres of water. Over 14,684 islands, more than 65,000 miles of shore line. Fact is, we need not ever hunt the same island or peninsula more than once. Providing every group that hunts with us, fresh untouched or previously disturbed trophy Canada whitetail opportunities. 

We take only a limited amount of hunters each year, helping to insure your success!...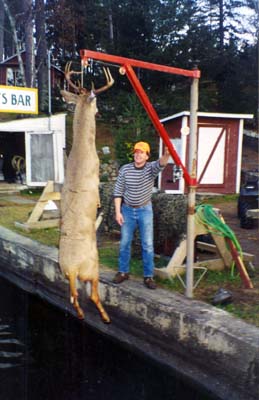 Northwestern Ontario has consistently and will continue to produce heavier bodied ( the largest body size in north America ) and large racked deer. They are plentiful here. Racks ranging from 10 to 20 points are not uncommon. Field dressed, these deer are weighing from 225 to 300 lbs. average 255lb. The deer range from 130's to mid 170's typical, 165 to 250 non- typical. 

Consistently, harvesting a good 60% on an average year to a high of 75% success rate or better on a great year! These are 100% fair chase hunts.

Were are uniquely situated. Lecuyer's Canada Lodge is smack dab in the middle of the 6 best hunting zones in Ontario. These zones hold the highest concentration of deer. One of these zones has also been designated bow and muzzle loader exclusively and has been that way for several years. Lots of these deer have never seen man their whole life. Within minutes from the lodge you can be hunting that trophy buck you've always dreamt about. 

Ontario deer the largest population of whitetail deer in all of Canada!... (2004 stats)


   We have a mix of terrain - from high rocky, heavily treed ground to low swampy areas and beaver ponds. There are over 1 million acres of boreal forest surrounding undoubtedly the finest forage, cover and protection that make for bigger, older deer. This is the best place for reclusive old bucks to get away from the hunting pressure. This is not a hunt for the weak or timid. This is perhaps the finest, true trophy whitetail hunt left in north America. You must be in relatively good shape, as you may expect to walk 1/2 - 2.5 miles a day. You may also harvest a timber wolf at a small extra charge on this hunt. 

Less than 10 % of mature bucks in this area are harvested by hunters!... average age of deer harvested, 4.5 - 7.5 years of age. More mature bucks here, are killed by timber wolves and the winters that are so hard on old bucks!... 

Our hunts run 5 days and are buck only. Lecuyer's Canada Lodge employs the finest qualified, most highly skilled guides available anywhere. These men love to hunt and love being in the bush. They respect it, gives back to them employment and food for the long, cold winters. They'll employ for you all their secrets and techniques - all of the knowledge passed on to them from their fathers, whose only store back then was Mother Nature's, and for the most part, still is.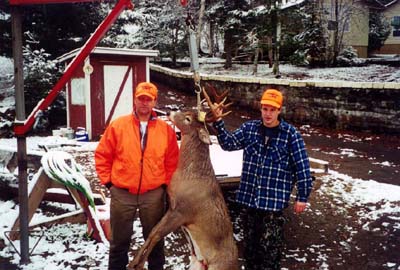 We hunt peak rut times only, and after all foliage is off the under brush !... 
All hunting areas have been pre scouted, to help insure a successful hunt!... 

Here we use the three basic styles of deer hunts . . . tree stands, stalking and ground blinds. The methods vary with the area your hunting, size of your party, weapons, weather, time of day, etc. This place has long been known by the few who were not afraid to venture forth as the place to bag BIG deer. Just ask around . . .Contact us now to get started on your Canadian Trophy Deer Hunt. Put the odds in your favor, be one of the few to bag a true Northwood's trophy buck.
Black Bear     View Rates | Booking Information | Back Up Top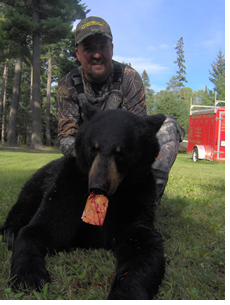 Lecuyer's Canada Lodge is located in an area which supports a very healthy bear population. Ontario hosts the largest number of black bear in all of Canada. Part of the reason we can offer such a high success rate for our hunters, is the size of our bear hunting area. We have over 30 miles of lake shoreline that we can bait off of. Add that to over 20 miles of logging trails! We also do our own conservation by limiting the dates of hunts as well as the number of hunters we accept each year. For our timber wolf hunts we hunt an area of over 50 square miles! Most of our bait sites we reach by use of 21' boats w/150 hp motors some by 4 x 4 truck and still others by 4 wheelers. This is a high quality bear hunt, awesome timber wolf, along with free fishing!
Our Pro Staff hunting guides select and diligently service all bait sets. They ensure your safety by using reliable tree stands. have our own commercial kitchen allows us to save "all the good stuff " so from old bread and pastries to left over french fries and used fryer oil we have all the main thing to add to our other ' secret ' proven baits. Your guide will work with you throughout and after your hunt, including tracking field dressing. They will take proper care of your meat and trophy hide while getting it back to camp. Back at the camp we have our own walk in cooler and butcher shop so you can be assured that your meat will be placed into a proper invironment so it will not spoil. We offer discounted skining and butcher services for our guests also and can ship your trophy and meats if required.We operate our hunts starting the third week in August and hunt through to the first of October. By doing this we ensure your highest possible success while ensuring the best quality of your trophy hide. Starting in mid September we can also offer our hunters a combo Bear / Timber Wolf hunt which has become very popular.
If your a single hunter, no problem we can help! If your a hunter and your buddy just wants to fish, no problem we can help you!

We offer both bow and muzzle loader hunts as well as rifle and shotgun and run camera only hunts at reduced rates.

Don't write, just give me a call as I prefer to discuss the hunting personally with each and every hunter ... looking forward to talking with you regarding your trophy bear hunt soon.

Call Dan @ 1 - 800- 201 - 2100
Trophy Moose     View Rates | Booking Info | Combo Moose/Deer | Top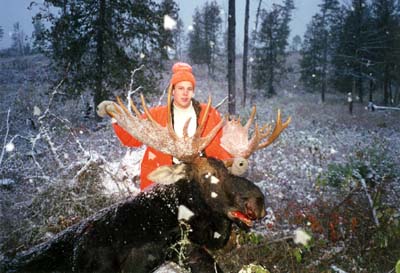 Lecuyer's is located in a very unique area, in that besides the excellent white tail hunting areas. We also boast some prime moose hunting opportunities. We have some vast areas that have timber harvesting going on. These are ideal locations. The region boast nice pockets of animals. All areas are pre scouted by our pro hunting staff to help insure your success. We hunt both the "caps" cut over ridges and around the many small lakes and swamp areas. These are some of the largest bodied moose in North America. We take nice racks each year ranging from 38" to 55". The package hunt is truly all inclusive, you need only bring your personal gear, guns and ammo. We provide all transportation to and from hunting areas, using newer 4/4 trucks and 4 wheelers. Nothing is spared to help in both finding and helping to get your trophy out. You are provided One pro staff hunting guide for each 3 hunters in your party. Additional guides are available at your request. A complete information package will be forwarded to you and your group once your booking has been confirmed with the lodge. As we have only a limited number of trophy hunts available each year you should contact the lodge well ahead of your targeted hunting dates to avoid disappointment in not getting to hunt this year or next.
Duck Hunting...     View Rates | Booking Information | Back Up Top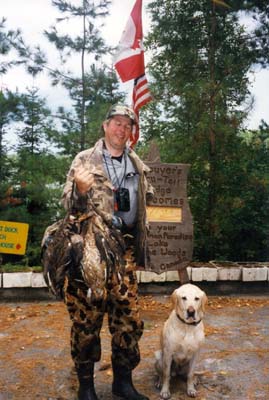 In 1997, Greg Severson, of Cabala's, hunted with us and had this to say. "Iv hunted different species of ducks in many places, from the prairies, coastal, South America to over sea's. I had forgotten how much fun blue bill hunting was till now. This is THE BEST Iv yet to experience, they just kept coming, any closer and I could hit them with my barrel." If your duck hunting adventure is for a smaller party, couples, larger groups or perhaps a corporate incentive outings. You owe it to yourself and you group, to experience the VERY BEST Ontario, Canada has to offer. There really is no other choice. As in the saying, " only being able to count close friends on one hand". So to is the truth that there are only a few REAL QUALITY guides available anymore. These Professionals work exclusively for Lecuyer's lodge. Contact us, let us help in customizing your perfect duck hunt.

The hunts are combo, so you and your group can enjoy some excellent upland game hunting and fishing as well.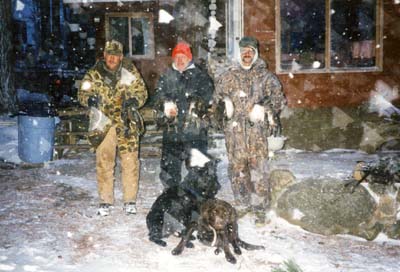 All your superb meals are catered around your groups schedule. For the Novice, we can help in instructing you in the basic fundamentals. From your basic personal outfitting needs, to learning different duck hunting techniques. Including, calls and calling, decoy patterns, hunting with different wind conditions, building the perfect blind, concealment and more. For the ardent experienced duck hunters, we can offer some excellent shooting in some of the most unique settings and with no crowds. Your dogs will have an excellent work out under different conditions. You will only need to bring your personal gear, guns, ammo, as we will provide all the rest in equipment and a hassle free environment.

As we run a very high rate of returning guest under this package, you should contact the lodge as soon as possible, for any limited opening for this year or to book for next years hunt. 
Guns ...
Grouse Hunting ...     View Rates | Booking Information | Back Up Top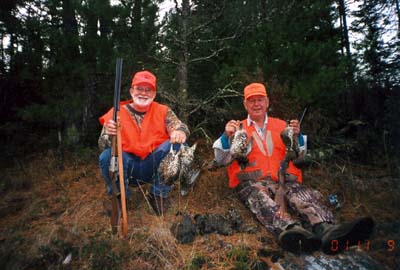 Perhaps no finer eating bird with its plump, juicy white breast meat. Like nothing you've seen before with their unique wings and fan like tail enabling fast flight and lightning turns. Truly one of, if not the finest upland game birds ever. Certainly the fastest for its size. We are centrally located amongst the strongest populations of ruffled grouse in all of Canada. As well, there are nice pockets of both sharp tail and the very beautiful spruce grouse. There is nothing more picturesque than walking down a colorful autumn trail. On still, sunny mornings or afternoons, you hear the sounds of songbirds and other wildlife playing melodies for you. Then, suddenly, you're startled by the thundering sounds of feathers beating in the still air. Your gun comes up...lightning in speed by this time your bird banks a hard 90 strait into the bush, get the picture! There are miles of logging trails, and we also have our own special trails, no need to walk through the thick bush here.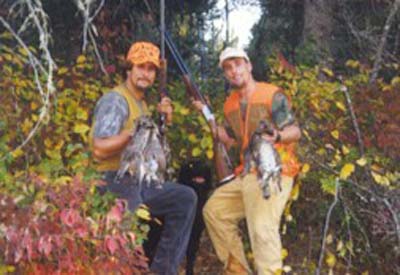 A very relaxing style of upland game hunting with plenty of close range shots.

Limits are 5 per day, 15 in possession. As with any of our hunts, they are tailored to your group. Our upland game hunting is perhaps some of the finest in the world. Although some groups come exclusively for these birds, we can combined your grouse hunt with your duck hunt and fishing. Making for truly a most memorable fall trip ever.